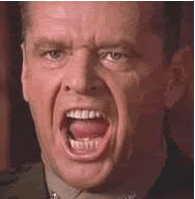 In A Few Good Men
Kaffee says, "I want the truth!"
Col. Jessep shouts, "You can't handle the truth!"
If Kaffee and Jessep were accountants rather than United States Marines, they might have been talking about the company's balance sheet.
A balance sheet is used to measure a company's financial health and net worth.  The truth is in the numbers.  What is the cash forecast? How much do our customer's owe us?  How much do we owe vendors?  Do we have enough accruals to cover noncollectable customer accounts?   Do we have the right level of accruals for expenses that we owe, but haven't paid?  How much have we invested in the company?  How much to be owe our lenders?
If we have been over accruing expenses like NetEx or Bad Debt,  we would make an adjusting entry that would reduce the accrual and reduce the expenses on the Income Statement – the result would improve EBITDA.  If we were under accruing expenses, we would make an adjusting entry that would increase the accrual and increase expenses on the Income Statement – the result would negatively impact EBITDA.
We are bonused based on EBITDA performance, therefore, we need to keep balance sheet accruals accurate. Our accounting team relies on accurate vendor contract information and timely invoice processing to keep a correct balance sheet.  It's up to every individual in the company to communicate with accounting when expenses have been incurred, when contracts have been executed or terminated,  and when invoices are being disputed.
It would be terrible to miss a bonus target, because accounting was accruing inaccurately for expenses on a contract that was terminated or an invoice that was being rightfully disputed.
The formula used to calculate a balance sheet is:
assets = liabilities + shareholders' equity
Assets are anything owned by the company that has value.  Liabilities are the claims of creditors against the assets of the business.
A balance sheet looks like this: With a correction from Nicole Dubbelde (thanks Nicole)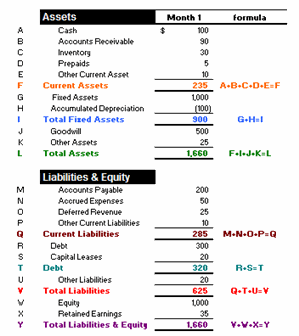 By definition (L) Total Assets and (Y) Total Liabilities & Equity equal each other.  The following define the terms used in the balance sheet.   Refer to this earlier post for additional financial definitions that we use at Zayo if you need more financial definitions.
Cash: money available immediately, such as in checking accounts
Accounts Receivable: cash owed to the company for invoiced revenue
Inventory: raw materials, work-in-progress and the company's finished product
Prepaids: items that you pay for in advance, like insurance premiums or software license agreements, where you might pay in advance every 6 or 12 months
Other Current Assets: other assets that can be easily converted into cash within one calendar year
Fixed Assets: land, buildings, machinery, equipment, and vehicles
Accumulated Depreciation: reduction of the value of the assets on the balance sheet to reflect the loss of value due to wear, tear, and usage
Goodwill: premium over book value a company pays during an acquisition
Other Assets: assets that don't fit into the current or fixed asset categories. They include things like prepaid expenses that won't be converted to cash during the current business year
Accounts Payable: short-term obligations owed by the company to creditors, suppliers, and other vendors. Accounts payable can include supplies and materials acquired on credit
Accrued Expenses: expense recognized on the income statement before it is paid for. Examples include accrued wages, interest and taxes. Even though they are to be paid at some future date, they are shown on the income statement in the month they expense was incurred and they accumulate on the balance sheet until the company cuts a check to pay for them
Deferred Revenue: cash that is collected for revenue prior to it being recognized as revenue on the income statement. Ex. Company ABC, pays Zayo $240 to install a DS1. Company ABC's contract with Zayo is for 24 months. Each month that the service is active, Zayo will recognize $10 of revenue on the income statement, until the entire $240 has been recognized. The portion of the $240 that has not been recognized on the income statement remains on the balance sheet as deferred revenue
Other Current Liabilities: other short term obligations that are not A/P, Accrued Expenses or Deferred Revenue. These could be short term notes payable or commercial paper
Debt: debt obligations owed by the business that are due more than one year out from the current date
Capital Leases: treated as both a debt and the acquisition of an fixed asset to be depreciated; thus the lease is recorded on the lessee's balance sheet as an asset and corresponding liability (lease payable)
Other Liabilities: liabilities that don't fit into the current or debt categories
Equity: amount of capital the owners have invested in the company
Retained Earnings: earnings reinvested in the business after the deduction of any distributions to shareholders, such as dividend payments