BearonBusiness wrote a blog titled: 25% of $X + 50% of $Y + 75% of $Z = Murky.   It looked like Dan was finally going to share one of those complex formulas that he uses in excel.  (You might be surprised to learn that the Bear is proficient at running financial models).
He didn't reveal a formula, instead he described how Zayo's near term Sales forecasting process works.
We start with a definition.  For an order to count as a Gross Sale, it must be signed by the customer and accepted by service activation/delivery in that month.  The dollar value of a gross sale is equal to the monthly recurring price that the customer will pay for the service (includes reduction for any discounts)  Gross Sales include any dollar changes to orders, prior to install.
We use 5 sales stages.
Working

– An opportunity that is being worked by the salesperson, but will not close in the current month
Best Case – An opportunity that is likely to be signed by the end of the month, but may slip to the following month
Commit – An opportunity that you expect to have signed by the end of the month
Closed – An order that has been signed by the customer
Accepted – An order that has been signed by the customer, and accepted by service delivery.  (ie the handoff between sales and delivery is complete)
Dan Caruso says –
To Commit or Not to Commit, that is the question. Is it Commit? Or is it Best Case? If it is Commit, why? If your Commit is light, you have some explaining to do. If Commits move back to Best Case, not good. If they move to Close, you are a hero.

Most of you have no idea what I am talking about. Many of you know exactly what I mean. In fact, this subset has probably woken up at night in a cold sweat after hearing these questions in their sleep. You know who I am referring to: account executives ("AE") at Zayo, Envysion, and ICG Communications (in 2005/06).

I learned this brand of sales management methodology from a former collegue of mine. Though I didn't realize it at the time, I have come to appreciate how incredibly valuable it is. The approach centers on the following concept: an effective AE should be able to indentify those orders that he or she expects to close during a given month. "Commit" means that the AE expects a certain order to be signed prior to the end of the month. If all their Commits are summed, it indicates the total amount of sales the AE anticipates delivering. The methodology, when properly implemented, requires that the AE puts a stake in the ground early in the month. That is, the salesperson is expected to foreshadow how much they will bring it during the month, even though early in the month they are dealing with a lot of unknowns. Showing little or nothing in Commit will trigger questions about why the person is expecting a bad month. On the flip side, once an item is identified as Commit, the AE has to be ready to justify why.
We use Salesforce.com to track each account exec's funnel activity on a daily basis.  When opportunities move from best case to commit, we count them in our sales forecast.   We also count a certain percentage of best case orders in our forecast.  However, this isn't simple math, it involves understanding which of the best case orders are likely to close.  The report below also tracks the date that account executives think an opportunity will close.  If the date, amount, or stage changes we understand why.
This is what our report looks like (names have been removed to protect the innocent).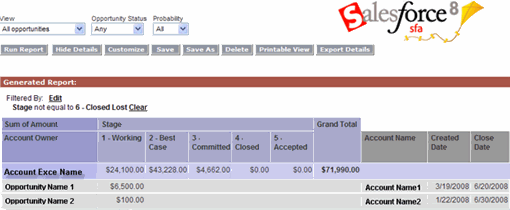 The best part about this process, is that when actuals come in differently than the forecast, the explanation is concise.  "Customer ABC's order pushed to next month, Customer Y – who we had in Best Case – signed their order earlier than expected."
Using any process that relies on probabilities requires a much more convoluted answer.  "Well, only 60% of Stage 9 came in when we forecasted 90%."  <- can anyone make sense out of that?